Types of Braces
Know Your Braces Options
Orthodontic technology has come a long way and now there are more options than ever before to give you the healthy, sparkling smile you've always wanted. From traditional metal braces to clear aligners, you have a number of choices when it comes to your orthodontic treatment. During your  free new patient consultation, Dr. Portalupi will thoroughly assess your smile and make a treatment recommendation based upon your unique orthodontic and lifestyle needs.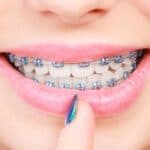 Traditional Metal Braces
Metal braces are the most commonly worn type of braces and are what most people envision when they think about orthodontics. Made from high-grade stainless steel, metal braces straighten your teeth using a series of metal brackets and wires. Many patients like that you can customize the appearance of these braces by adding colored elastics (tiny rubber bands). They come in a rainbow of colors and can be changed out as often as you like.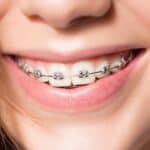 Self-Ligating Braces
Self-ligating braces are similar to traditional metal braces in many respects. Both are made from stainless steel and use brackets and wires to move teeth into proper alignment. The big difference between the two is that self-ligating braces use brackets that are much smaller than traditional braces and the archwires are held in place by clips instead of elastics. This puts less pressure on your teeth which means less discomfort. And, since there are no elastics to replace, that means fewer appointments for you.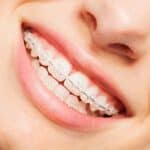 Clear (Ceramic) Braces
Ceramic braces are made of clear or tooth-colored material and are less visible on your teeth than metal braces. They are more commonly used on older teenagers and adult patients with cosmetic concerns. While they are much less visible, the brackets are larger and more brittle than their metal counterparts and they do require more attention to oral hygiene. Because of this, ceramic braces are typically used on the upper teeth only.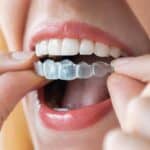 Invisalign® Clear Aligners
Invisalign® clear aligners are a series of comfortable, flexible, transparent aligner trays that gently and gradually move your teeth into proper alignment over time. There are no brackets or wires to attach to your teeth or irritate the inside of your mouth. Clear aligners are removable, making it easy to brush and floss properly. Best of all, there are no food restrictions so you can continue to eat the way you want during your treatment.
We Work to Fit Your Schedule
Choose Your New Patient Experience
Schedule your free, no-obligation consultation and smile assessment with Dr. Portalupi today and choose the type of appointment that is most convenient for you!
What Our Patients Say
Hear From Some of Our Happy Patients